I've decided to start keeping a diary again.
I'm 46-years-old and working from home for a US-based startup. My kids are 11 and 8, and doing well at school. My wife works from home once or twice a week, which allows us to have lunch together.
It's nice, but I want more. I want to be creative, and do good work.
I also want to generate a passive income.
I have a few project ideas kicking around:
Jack and I are working on a password manager "for your mum".
Jack, Rob and I still occasionally post to our "Link a Day" Slack channel.
I've started toying around with SDL2 and vanilla C again.
Yes, C. It's quite refreshing, and I think decades of experience with higher-level languages means the C code I write nowadays has matured without me knowing about it.
Anyway, I plan to resurrect the HackTile project. Hopefully this diary will help me keep track of that. But I get easily distracted from side projects.
I'll be trying to apply the principles of "deep work". I'll schedule daily blocks of time to work on one of the aforementioned projects, and I'll track my progress by writing it down here. I want to keep at it for at least 100 days, like I did with the 7-minute workout. That'll help to make it a habit.
But I'm still recovering from a severe head cold. It's a beautiful Autumn day, and we had a lunch of banh-mi-tet at the park in East Perth, but back home now with the kids (looking after Lilian, Lachlan and Yoshi because their parents are at the footy).
Future posts will be shorter. I just want to capture the essence of each day.
Onward!
Watching S02E01 of Legion. Amazing sound design.
Refactoring some of the HackTile code. Pretty easy to get things up and running with SDL2, and I have a basic CA working (Conway, of course). Updating 50k cells at 50Hz minimum. I remember why C is so much fun!
Still unwell. Made lamb rogan josh for dinner… the kids can handle curry these days. First time making Indian for the whole family though. Eliza had Quiz Club after school. Jack played the trumpet during a music incursion.
Deep work is paying off. Scheduled each hour of the day. Doesn't take much effort to do, and I found I could focus and commit to a particular task more easily. May it continue!
Scheduled the day again. Realised I can break it into 4 blocks:
7am - 9am: Shallow work (active 1 hour)
9am - 3pm: Deep work (active 4 hours)
3pm - 9pm: Shallow work (active 2 hours)
9pm - 11pm: Deep work (active 2 hours)
By shallow work, I mean things that would take me a few weeks to train somebody else to do. By deep work, I mean things that require intense concentration, and which leverage the domain knowledge and engineering skills that I've built up over the last three decades. By active, I mean sitting at my desk doing real work, and not just pretending to be busy. In breaks I can still passively work, by answering emails and things like that, but I may be doing that on my phone while I'm distracted with something else.
This makes sense to me. It's hard to do more than six hours of active, deep work in a single day. It can be mentally exhausting. Most "knowledge workers" in a traditional open-plan office would struggle to achieve half of that. But that's where the value is.
I like that rough schedule. It gives me time to work my main job, and time to make progress on hobby projects.
Speaking of which, didn't work on HackTile at all today, even though I'd planned to. Got delayed reading The Queen of Sorcery to Eliza and cleaning up the kitchen, then listened to two episodes of The West Wing Weekly. It was too late after all that to begin working on something.
Kids had their flu shot today. Picked up Eliza from string orchestra practice early. Jack being very silly (annoyingly so) all afternoon. He's developed a habit of lying for fun. Must change that. Dzung made pork ribs for dinner. I'm doing OK; still 75% health after recovering from this cold.
Jack headed off to a whole-day excursion to SciTech. Eliza in early for Japanese before school begins. Me doing some shallow work in my PJs while Dzung drives them in.
Have a work meeting scheduled for late tonight, and had trouble this morning getting motivated to work my regular job (due to politics mostly, we focus on trivialities which don't serve to push us towards our goal). So, in penance for skipping out on HackTile yesterday, I spent some time working on it during the day. Some progress made; refactored so that the engine creates and destroys entities in the game, which the game renders. Achieved 55fps with 65536 entities running Conway's Life. A screenshot tomorrow, perhaps.
Lunch at a Hawkers place for Laksa, after watching Adam Liaw make a fantastic version of that dish on YouTube last night.
Health much the same as yesterday. Cleaned up garden. Salmon dish for dinner.
Busy day at work… knocked off a few major tasks, and followed up after a late-night meeting yesterday with a development team in Chicago.
Battening down the hatches this afternoon in preparation for an overnight storm. Winter is coming…
HackTile progress. Added vsync to the render loop, and changed the update function of the engine to allow the CA to update just 10 times per second (before that, after implementing empty space instead of requiring entities everywhere, it got up to 160 updates per second). Next on the list is to scroll and zoom the viewport.
Eliza had Cindy K over after school to do some baking. Jack had an asthma attack at school after doing cross-country training. And I headed off to the doctor's to get some steroids to fight my own asthma (a side-effect of the cold).
Electrician over to fix the power points in Eliza's room. Dzung very busy at work; she had a late brunch with April and Mary and then working all day. I made leftover curry with roti and rice for dinner. Calling it a night early… plan to veg and get some rest.
Very tired today. Slept little partly because I broke my own rules and stayed up far too late last night (watching The West Wing, listening to The West Wing Weekly, then listening to music, drinking whiskey, reading), and partly because I couldn't stop coughing once I'd gone to bed.
Storm overnight. Heavy rain and strong winds. Feels like winter! Lots of shopping today for Eliza's birthday lunch tomorrow. Wrapped her presents and made a photo collage of her last 11 birthdays, and the day she was born.
Implemented a camera system for HackTile, allowing me to pan and zoom around the playfield using the XBox controller. Pretty neat. Oh, I promised a screenshot: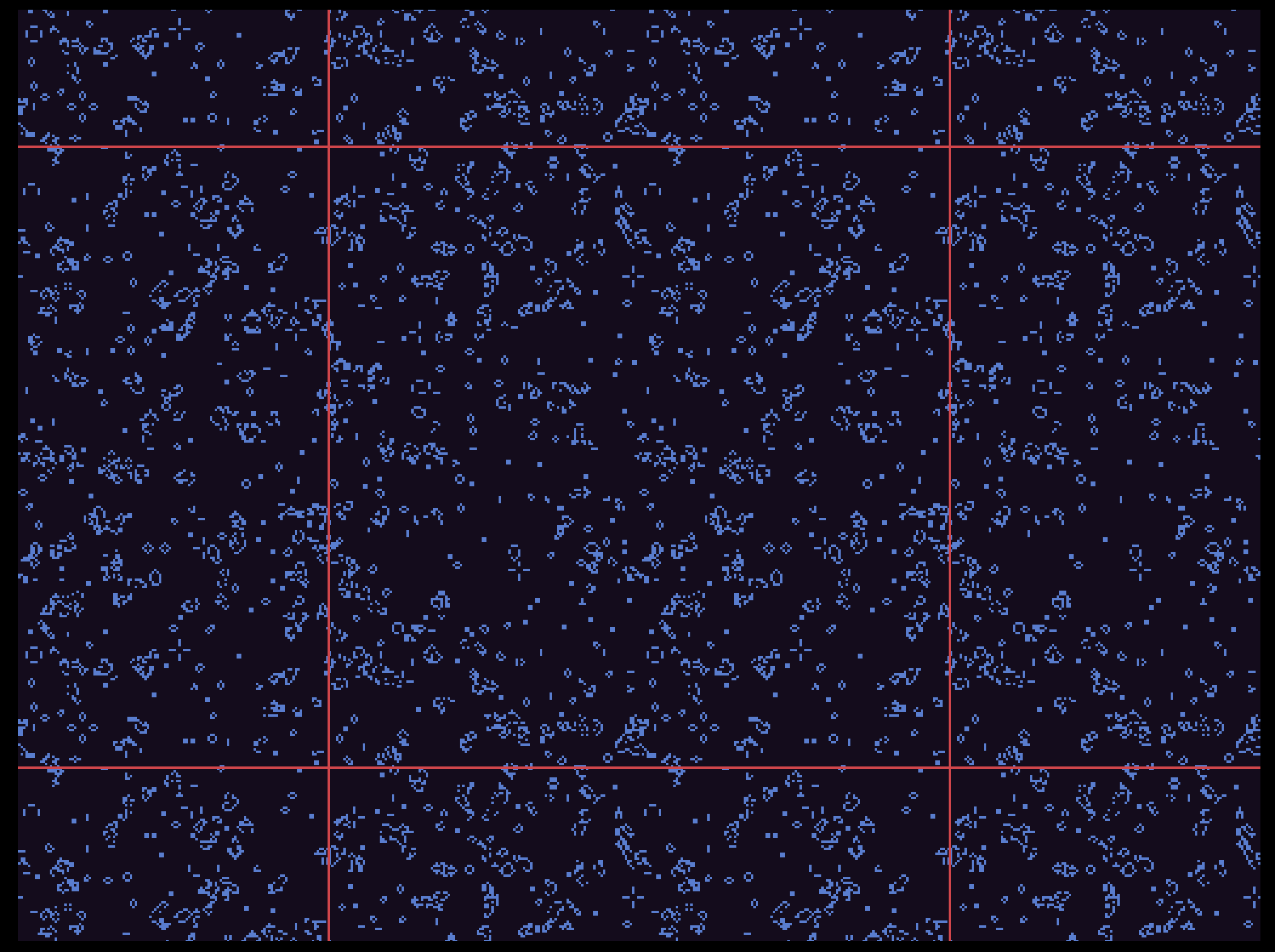 Yup, it's still only Conway's Life. The red lines show the border between the 4k texture that represents the entire world. It's being tiled because the camera is zoomed way, way out (until each 16x16 pixel entity occupies only a single pixel on screen). We can zoom way, way in, too, up to 128 times:

Mum and Dad over for Friday night dinner. Finlay for a sleepover. Watched Wallace and Gromit with popcorn after a stodgy meal of shepherd's pie, potato gratin, lasagna and apple tart. Heaven.
Eliza's 12th birthday. Kids up early. Presents and breakfast, then took the kids to Garden City. Jack had a haircut, Eliza bought herself a Pokemon game. Back to prepare lunch; roast lamb with all the trimmings for 17 of us (both sides of the family). Played the C64 and the SNES with my brothers. Afternoon spent cleaning up and making lamb and barley soup for dinner. Played Letter Tycoon with the kids before they went to bed. Far too tired to work on HackTile; will watch an episode of The West Wing and crash.
Dzung off to the HBF Fun Run, I took the kids to a karate make-up class. Got the times wrong, so Jack joined Eliza's lesson. They trained pretty hard today, the instructor wanted them to break through the wall where the mind wants to give up but the body can keep going. Jack did great, but said he felt "noise-ious" when he came to get a drink of water. Eliza's friends (Cindy x 2 and Zophia) over to go to birthday lunch at Ruocco's in Fremantle. Then off for a shopping spree at Garden City, and back home for cake and afternoon tea.
Did some work on HackTile; started to implement a debug UI, and continued work on getting the camera hooked up to controller and mouse controls. Once that's wrapped I'll be moving on to adding extra entity states for spawning and destroying, and will then give these entities some textures and animations :)
Wintery day. Took Jack in early so he could do school banking, then off for grocery shopping before returning home to work. Productive; ended the current sprint, released to production and started the next. Always feels good.
Some work with the HackTile camera system, to the point where both camera and entities needed to be refactored out into their own files. Always tending the garden; need to minimise dependencies and make things neat and tidy. Need an entity manager to deal with the various entity pools (creating, busy, destroying, free), and need to support multiple cameras. This is mundane, humdrum but necessary, and will continue for a day or two.
Leftovers for dinner: lasagna and shepherd's pie, with fresh salad and steamed corn on the cob. Jack a bit sleep deprived… being silly and squawky. Eliza in a bubble of happiness, still riding high after her birthday weekend.
Finished the day with Dzung watching Legion, then washing dishes while listening to The West Wing Weekly. Still coughing like crazy after this cold.
Eliza's Furby woke up in the middle of the night, talking loudly in the top of her wardrobe at 3am. Crazy! I woke up feeling nauseous. Not sure why.
A little work on HackTile, continuing the refactoring work.
Eliza gave a talk on shark culling at school. She made a great powerpoint and practiced her speech. Proud of her for busting through her nerves and speaking loudly and confidently in front of her class and teacher.
Pub lunch with Wil. Talk of Amigas and Twin Peaks, naturally. Dinner at Clancy's in Freo with Lily and the entire family.
Productive day at work. No HackTile action (think I'm putting things off because big refactorings are boooring). Thinking about getting a new TV.
Well, I've really fallen off the wagon right here. Didn't write this until the next day. Had a busy day of work, then looked after the kids while Dzung was out at company drinks. We picked up F&C from Tankk and watched YouTube videos. I had a beer. After putting the kids to bed and reading to Eliza, I was the one who was tanked, so I had an early night. Plan to make up for that "tomorrow".
Well, well, well. Haven't been feeling well. Wrote a Rakefile to make writing diary entries more efficient. Full, productive day at work. Jack had his friend Eli over afyer school, but ended up throwing a tantrum. Punishment is a total screen ban over the WA Day long weekend. Made tortillas for dinner. Delicious with a G&T. Kids to bed and Dzung and I watched a few episodes of Endeavour, the Inpector Morse prequel with all the pretty girls. Well, I half-watched while finishing Mr. Mercedes. And, yet again, no Hacktile!
Sleep-in and a leisurely outdoors breakfast in the brilliant sunshine. Still feeling bad. Jack reading Calvin and Hobbes, which he discovered in my bookshelf, while looking for something to do other than playing on screens.
Usual Saturday chores of clothes washing and taking the kids to karate. Faith and Yoshiya were there; had a long chat with Faith about their recent trip to Japan and her promotion at the ATO. Grabbed sushi, seafood chowder and crusty baguette for lunch on the way home, and relaxed afterwards on the daybed, reading Finders Keepers (I finished Mr. Mercedes this morning).
Philae over at 6pm to babysit the kids; Dzung and I went to Long Chim for dinner and then watched "Behind the Barricade" at the Concert Hall. Home to bed. Zero progress on HackTile.
Beautiful morning. Eliza off to tennis training. Jack and I reading over a lazy breakfast, then searched for (and found) Dzung's lost Kindle. Picked up Lilian and Eliza and headed to Dim Sum for family "brunch". Beautiful sunny day eating outside at 8 On The Point. Went back to Van and Kiet's and walked the kids over to the new adventure playground near the stadium, where they spent a happy hour building a cubby house.
Back home for a rest, then dropped the kids to Finlay's for a sleepover. Dzung and I out to meet up with Annie and Elaine for a dinner at Garum, Guy Grossi's new Perth restaurant. I thought the food was great, although not all of us agreed; there was a general mood of dissatisfaction with everything, which put somewhat of a damper on the evening. Ended with a brandy and a few more chapters, and, as you may have guessed, no HackTile.
Sleep in. Dzung off to pick up kids from their sleepover, then I took Jack grocery shopping after a late breakfast of scrambled eggs and strong coffee. After lunch (Dzung made ramen) we went shopping for a new desk for Dzung's office (no purchase yet), then back home for a long session of Letter Tycoon (cold and rainy day, so indoor boardgames are perfect). Dinner of leftover tortillas and soup, followed by a session of Kirby Star Allies. Kids to bed, and Dzung and I finished the night by watching "I, Tonya". What a lazy WA Day!
Back to the grind after the long weekend. Cold and rainy. Dropped kids to school and did some grocery shopping at Garbo, then back home for a productive morning of work before a brief call with Will and a steak lunch with Wil. More work in the afternoon, then made bangers and mash and watched an episode of A Series of Unfortunate Events before putting the kids to bed.
And, partly due to a chat with Wil after lunch, I got my mojo back and did some HackTile work. Not much, but enough to get my head back around it and make some progress. The last part of the refactoring is writing the entity manager; I hope to do that over the next few days to get things back up-and-running.
May need to visit Boffins to get a good C99 reference.
Busy day at work; got a lot done, and also managed to get the HackTile refactor finished to the point where everything is running once again. Nice to have abstracted out an entity manager, a camera manager and an input handler, improved object state and lifetime management, and cleaned up a lot of the code. Still much more to do, but progress being made!
Plan to finish the day with a bit more work on my day job, and then perhaps watch a movie or play some games tonight. Dzung is going to be cooking spaghetti and meatballs, but I must admit I'm still pretty full from the curry laksa we ate for lunch.
Long, productive day at work, finishing the last of the work before the end of the current sprint, and culminating in a late conference call to New York. So no HackTile, apart from a few ideas about how to improve the camera system to deal with multiple cameras and arbitrary aspect ratios.
Made "bashy pork", aka Japanese port katsu curry, for dinner. Proud to learn that Eliza is in the top 50 maths students, of around 350 in total. She's really made a great start to high school.
Gardeners came today, and I returned a misdelivered package of cat food to our next-door neighbours. Amazing what you can buy online these days. Dzung out with April and Mary for lunch; I had onion soup and cheese on toast while watching The West Wing. Zelda book was delivered, which Jack loved. He wet his pants during class assembly rehearsal today; first time in ages.
Ended the day watching the second half of "Game Night" which Dzung and I started last night.
Busy all day at work. Rushed out in the morning to buy a birthday present for Eli; Pokemon pack reduced from $80 to $30. Girl at the games store thought I was there for Magic cards (there's just been a new release).
Heads-down all day working. Quick break at lunch for meatball pasta and wine with The West Wing, then back to the grind. No time for HackTile—picked up Jack from Eli's party (Eliza and I met Dzung walking home from the train station on the way), then back to a warm house to recover with a cognac and order Thai delivery for dinner, which was delicious with a beer. Then snuggled on the floor under a blanket with the kids to watch Black Panther. Made popcorn. After the kids had been put to bed Dzung and I had a cuppa and played Letter Tycoon. She won on points. Ended the night reading in bed. A real family Friday.
Dzung's course was cancelled, so she took the kids to karate. I took the opportunity to do some HackTile work. Began by implementing multiple cameras, making sure to handle different aspect ratios, and to remove hardwiring of the texture size for rendering the game. Working well!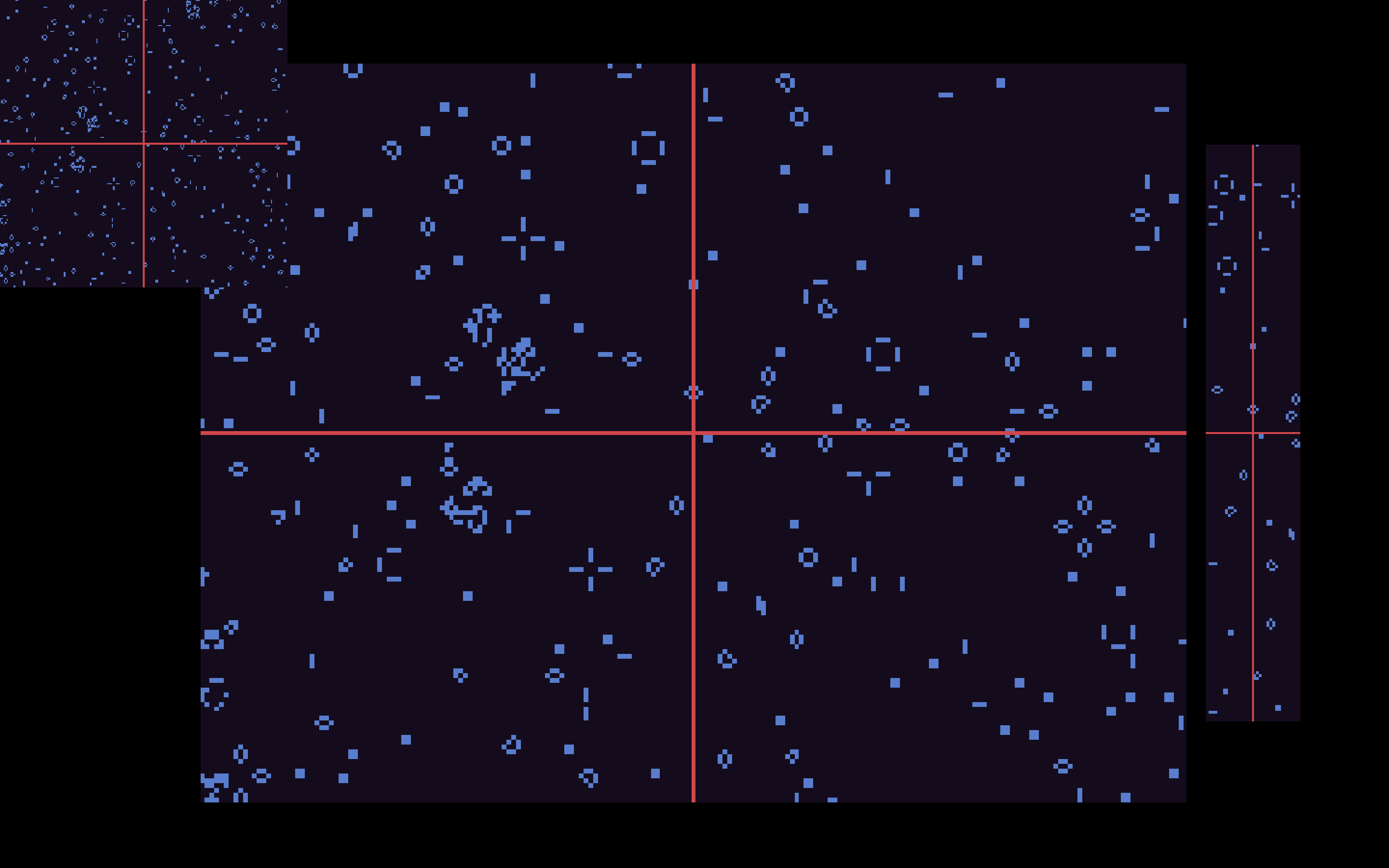 Next I introduced entity states for spawning and unspawning, and rendered these with a different colour. This requires the engine updates to synchronise with entity creation and deletion, so I introduced a new opcode allowing the engine to synchronise entities each time it updates. Also worked rather well!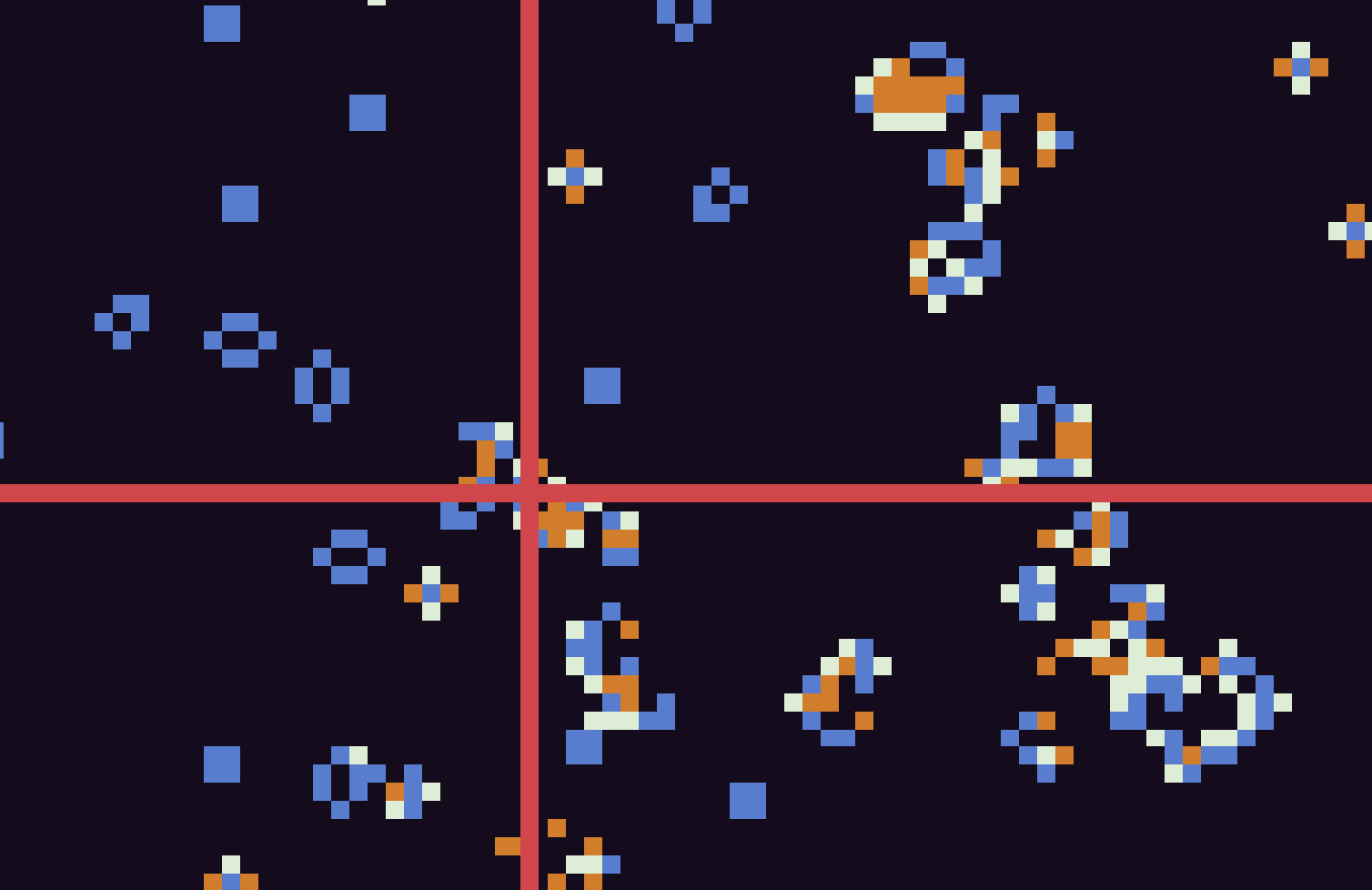 The next step will be to update controls to allow the cameras to be manipulated, and to implement a nice debug manager to allow different parts of the engine to display debugging information on-screen, such as camera location, entity counts and frame rate.
Dzung making shaking beef for dinner. I also managed some time with The West Wing Weekly and Breath of the Wild; in the latter I've been running through as many shrines as possible, now that I've switched my playstyle from open-ended exploration to completing the main quests. Crazy I know (the game's been out for well over a year), but I'm in no rush.
Rainy day, so Eliza's tennis lesson was cancelled. I made pancakes and we had a long, lazy breakfast instead. Then picked up Lilian from tutoring and dropped her and Jack over at Van and Kiet's. On the way she told me about her desire to buy a bass guitar, and her mum's long list of conditions (including teaching Joshua violin, doing her homework downstairs, doing her chores, eating Chinese food without complaining and so on).
Received a food delivery from "You Plate It" which Eliza will be cooking for our dinner tomorrow, and on Thursday. Included a ridiculous amount of fruit.
Dzung, Eliza and I went to the St. Petersberg Ballet production of Swan Lake, with principal performers from the Bolshoi Ballet. Amazing show. Afterwards we stayed in the city for drinks and snacks, then returned to Van's for dinner. Amazed to see Lilian with a bass guitar! She'd actually gone and bought it while we were at the ballet.
Van cooked oxtail soup for the first time with excellent results. Van and Kim had gone to see the Dockers. Had a chat with Kim; she's doing really well, and has just received her registration as a professional architect. Played with Joshua and had dessert, then home for the bedtime routine. Too tired for any further work on HackTile this weekend. We'll see what tomorrow brings.
Dzung dropped Eliza in to school, I took Jack in a bit early for school banking. Got a bit of HackTile work done first thing; laid the foundations for a debug manager and improved the multiple camera system, converting it from floating-point to integer arithmetic. Very happy with performance.
My modded UPB-X800 arrived, so I set it up during my lunch break and confirmed that my US BluRay discs worked (they did). Now all I need is a great TV!
Busy at work. Finished the current sprint, deployed to production and started planning the next round of work.
Picked up Jack and took him shopping, then got Eliza. Homework and piano practise, and then Eliza cooked dinner: lupin-crusted salmon fillets on a bed of miso and mirin sweet potato smash with mustard greens fried in garlic and ginger. Took over an hour to prepare, and that was with my assistance chopping and cleaning and so forth, but she had so much fun and was deservedly proud of the results.
Early-morning meeting with Mark. Kids off to school, and I then settled down to watch Trump meet Kim in Singapore, and the Sony E3 live stream. Started a new sprint and made good progress. Lunch with Wil; artichoke soup and ham and cheese toasted sandwich. Picked up the kids and off to Freo for Eva's birthday dinner at Grill'd. A bit of HackTile upon returning; working on debug mode. Got fonts implemented and used this to draw camera information, and work-in-progress on a larger debug menu. First try getting fonts in was a bit buggy though.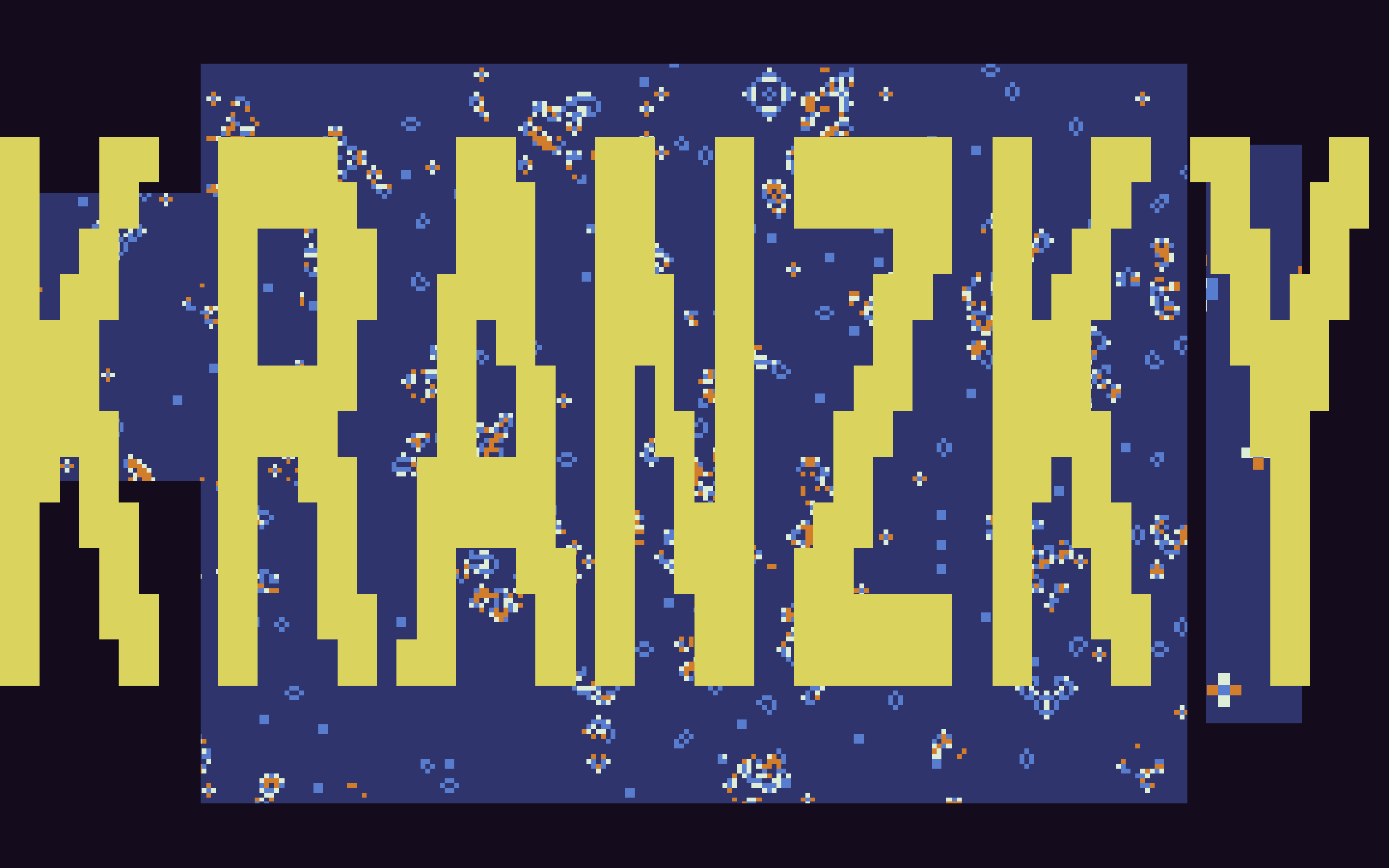 Finished the night watching the Nintendo E3 live stream. Busy day!
Woke up very tired, after staying up late to watch Nintendo at E3. In fact, Dzung and I both overslept, so it was a mad rush to get the kids to school on time, and I missed a scheduled work meeting.
Worked throughout the day getting four new customers set up, but hit a roadblock with some third-party services, so switched to some HackTile work. Finished implementing the debug menu, and then added a feature to allow the palette to be swapped, hard-wiring 9 of the best sixteen-colour palettes I could find. Hooked these up to the input system, adding inputs to allow the update rate of the engine to be modified too, in addition to a pause mode.
Dzung out at the movies tonight, so I made pizza with the kids, and we watched some E3 videos on YouTube. Very cold, so have the heat on, and have taken to wearing Jack's Harry Potter beanie. Will end the night sipping on a cuppa while watching The West Wing, waiting for Dzung to come home. Don't want another late one.
Gorgeous day. Set up the daybed again. Dzung took the kids to school while I got to work, coffee in hand. Busy setting up some new organizations. Break for a late morning bike ride around the river in the glorious weather, then lunched on oxtail soup outside in the sunshine.
Eliza cooked beef cheesburger sliders with sweet potato fries and aoli for dinner. Was very tasty! She did a good job peeling five sweet potatoes, then chopping them up with the sharp Japanese knife.
Bit of work on HackTile after dinner. Multiple game controllers working to control multiple cameras, switch palettes, adjust update rate and so on. This thing is starting to take shape!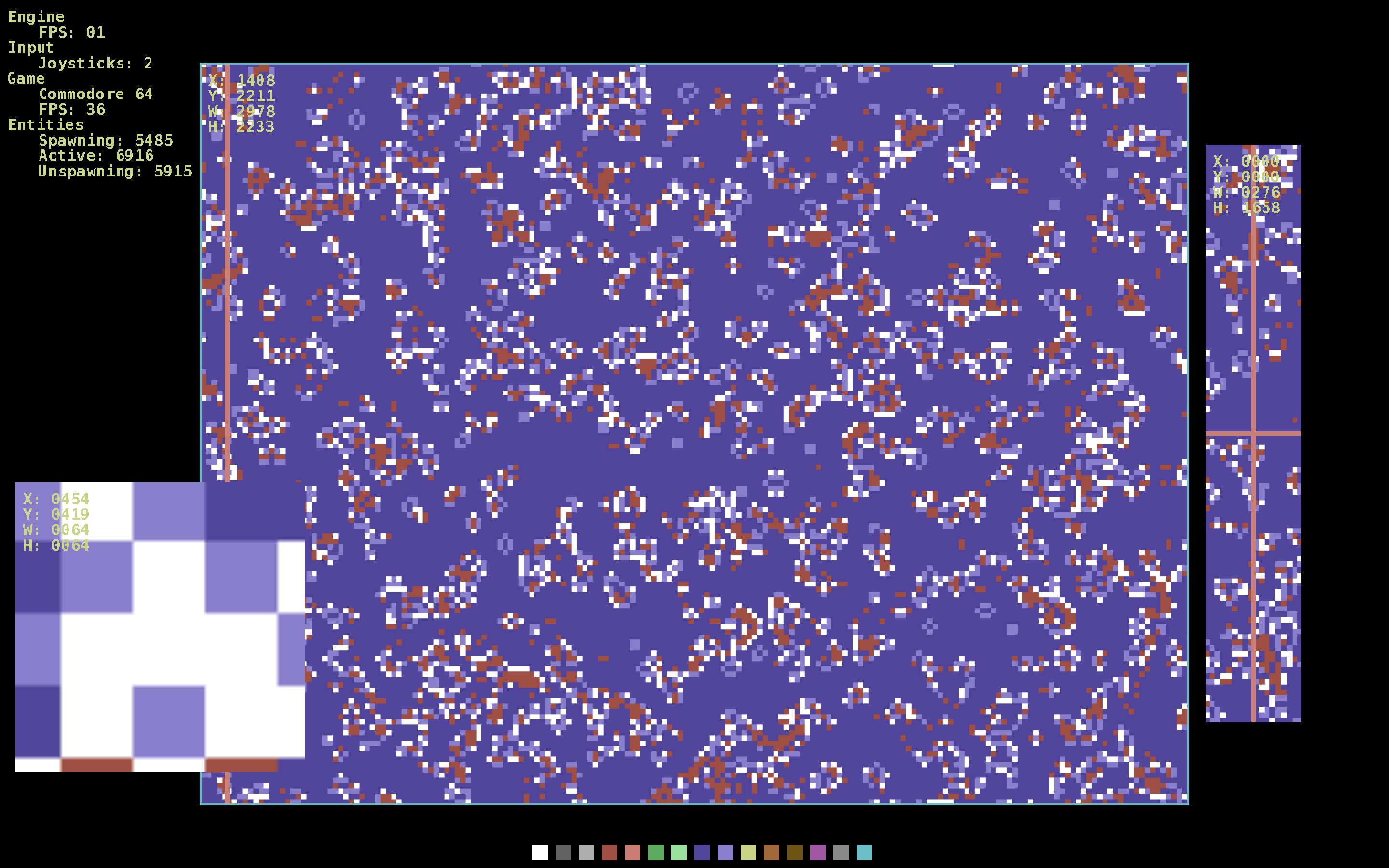 Next thing will be to replace flat colours with animating sprites. That'll probably take me a while. Once that's done some refactoring and optimisation will be called for (especially for the debug font, which badly impacts the frame rate, as can be seen in the screenshot).
Work in the morning, then off to watch Jack's class assembly. He dressed as a ninja and spoke confidently in front of the school. Dropped Dzung at the office and worked through lunch, then into the city for a couple of interviews before meeting Matthew for a beer at Nowhereman. Then into Leederville for a six-pack of Guinness and pizza. Jack (my friend, not my son) joined us, and we chatted for hours. Showed them both HackTile. No work on it today but planning for what to do next. Home before 11pm, Dzung and the kids had roast lamb with my parents.
Beautiful but chilly morning, Up early to do the laundry and have breakfast, then showered and to karate with the kids. Back home via the fish shop, lunch was seafood chowder with crusty baguette and some sushi on the side. Shopping after lunch for roast lamb tomorrow, and ingredients for stuffed tomatoes, which Dzung made for dinner. Delicious. Took the kids for a bike ride down to deep water point after hanging out the washing and listening to podcasts. Ate some fruit while watching the river. Saw Jumanji after dinner and demolished a box of Tee Vee Snacks. Feeling tired and run down, will have an early-ish night.
Refactored the input handler in HackTile. Feels much better now; controllers are managed properly and can be queried from anywhere. Nice. Will add mouse control for spawning entities over the next day or two, and will make the camera movement smoother and more precise.
We all had a bit of a sleep in. Late breakfast with the kids, then busy preparing roast lamb, potatoes, carrots, beans, brussel sprouts, salad, gravy and so on. Meat was a bit overcooked but delicious all the same. Ba raided our kafir lime tree for the restaurant as usual. Quickly packed up then over to Elaine's for Mahjong with Josh, Annie and Mitzi. I worked on HackTile while Jack played Zelda and Dzung and Eliza played Mayjong with the others. Got mouse drawing working, and Eliza had a ball trying it out!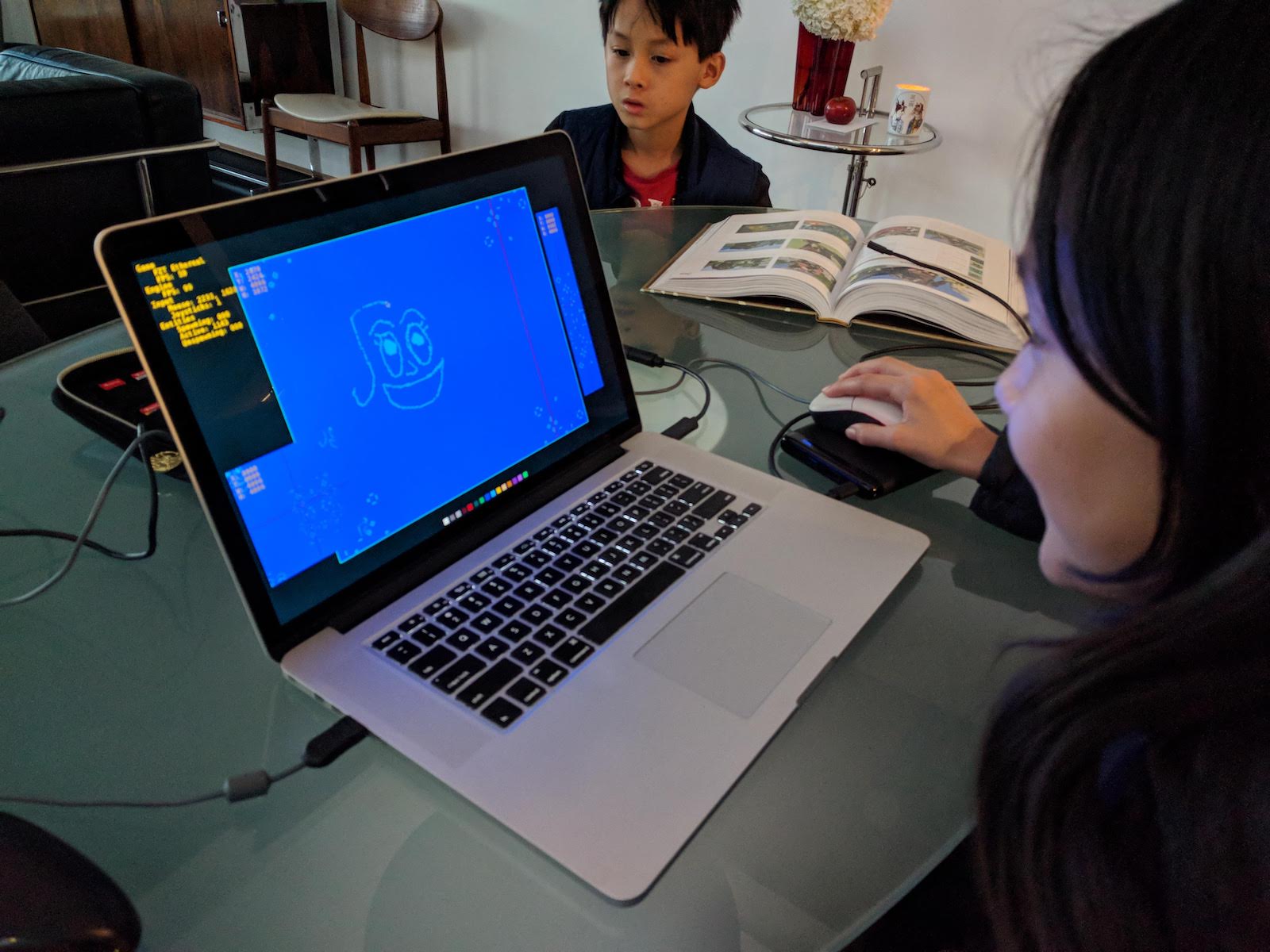 Amazing how much fun things are when you can interact. Had dinner at a nearby Thai place, before taking the kids home, leaving Dzung to play with the others. Jack and Eliza mucked around with HackTile a bit once we were home, then it was off to bed. And I'm exhausted, so an early night with "End of Watch" for me.
Grey Monday morning. Jack complaining of a sore tummy. Slow day at work struggling with Android builds and getting new apps set up on TestFlight. Picked up the kids and Jack made MaPu ToFu for dinner. Eliza got hit in the head with a basketball at school but took it stoicly. Later she cried when I read her the final chapters of The Queen of Sorcery.
Reimplemented the debug font for HackTile, using a caching library. Debug rendering now incredibly quick, exceeding 300fps when vsync is disabled, event when maxing out the engine. And implemented the beginnings of the sprite manager, to the point where drawing squares of flat colour has been replaced with blitting images from a sprite sheet. Still lots of more work to do there, and I feel that the next step will be implementing a basic sprite editor.
Watched an episode of The West Wing at lunch. Plan to watch another before bed, as Dzung is working and I'm not ready to hit the hay.
Very busy day at work struggling with builds. Not fun. Day was grey and miserable. Jack's lap-a-thon cancelled due to weather. Dzung made sweet and sour fish for dinner, to use up leftover coriander and spring onion. Delicious.
Switched to a new font for debugging, and made sure the font colour changes with the palette. And got sprites rendering from the hard-wired pixels into a texture buffer to update with the palette too. Need to get alpha working next, then on to a basic sprite editor so I don't need to design these in hex digits.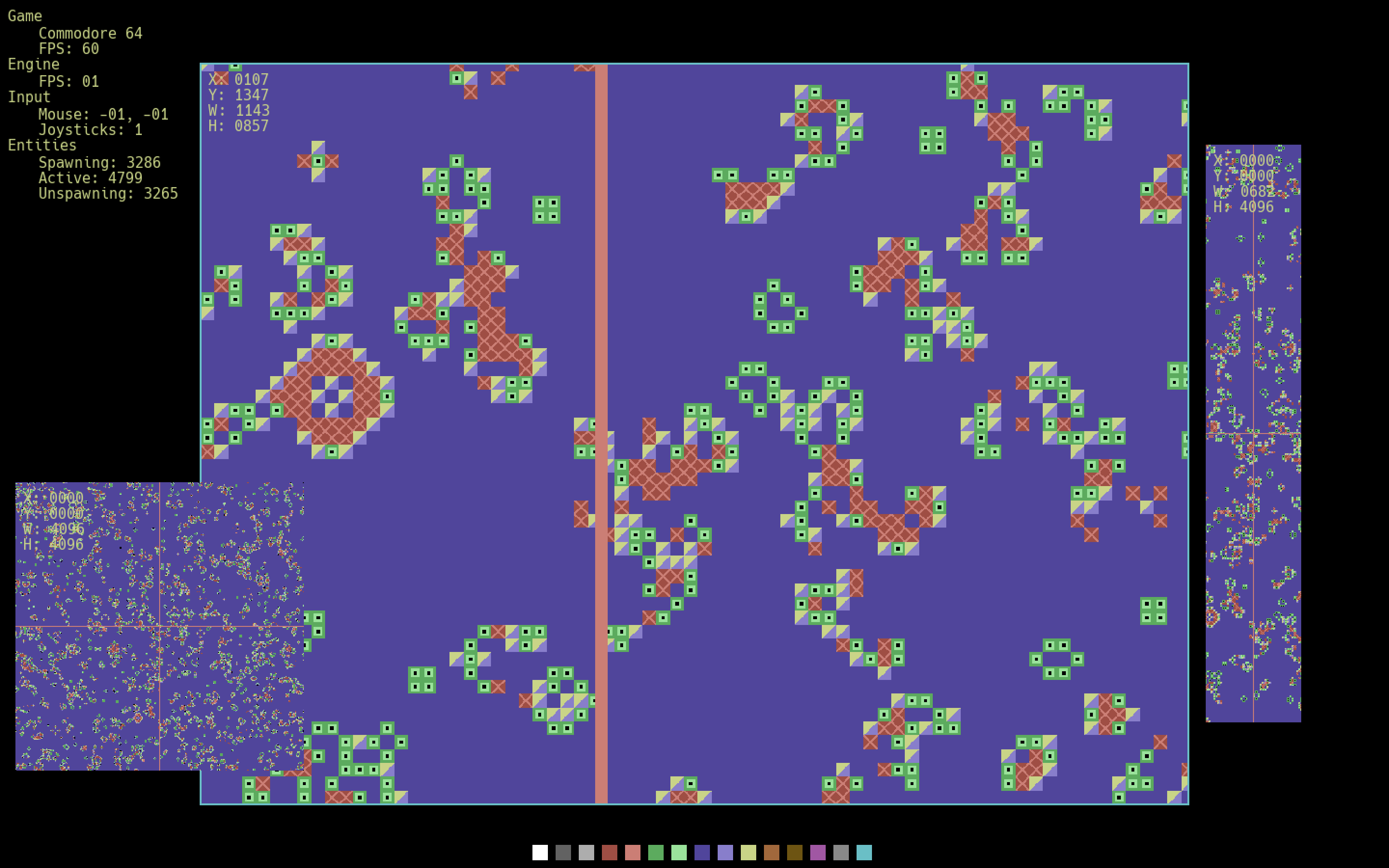 Will end the night with a bit of Zelda, cheese and brandy. Time to celebrate.
Bit of a meh kind of day. Eli came over early, as his mum and dad both needed to be in the office early. He and Jack are obsessed with minerals. They examined Jack's rock collection enthusiastically, and were fascinated when I set up the digital microscope for them to use. After school, Jack made "Brentwood Geologist" membership cards for himself, Eli and Josh, which I helped him print and laminate. Great to see them obsessing over something!
Watched the lap-a-thon in the afternoon, which Dzung volunteered at. Made bolognaise for dinner. Sat on the sofa and watched three episodes of Seinfeld after dinner. Don't know why, it was just part of the overall meh-ness of the day. I think it started when I woke up bright and early for this morning's team meeting and nobody showed up. Also the comedown after the intense work setting up new customers.
Did some HackTile work; got alpha blending working for sprites. Really has a big performance hit; barely hitting 100fps when maxing things out now. But it's necessary, as I want to have multiple layers. Spent some time thinking about the sprite editor, sketching out some UI designs based on SEUCK. I think I need to stew on this for a few days before coding anything up. I want to keep the editor simple, so making it opinionated is key. One way of doing this is to impose tight constraints on flexibility; limiting the exact number of entities and how they can be used, for example.
Another busy day at work. Lots of HackTile design, but no programming. Plan to introduce two states; a game state and an editor state, and toggle quickly between them. The editor will have a fixed layout, with the entity and rules editors implemented as pop-up dialogues. That gives me something to start with; refactoring to support multiple states will take a bit of work, and the editor layout can then be implemented with placeholder content, and I can then start fleshing out just the entity editor. Should work fine. Still need to stew on it for another day or two before I roll up my sleeves and start implementation.
Dzung made leftover curry for dinner, I cooked some lamb cutlets to pad it out. She's feeling sick, and there's still a bit of meh-ness around. Forgot to put the bins out last night; another symptom of our general malaise at the moment. I'm going to watch an episode of The West Wing and call it a night.
Morning meeting. Light day at work. Went shopping at lunch time to pick up groceries and beer, and to get the new Mario tennis game. A bit of HackTile in the afternoon; refactoring to add two game modes that can be toggled between, and starting to build out controls for the UI. This work will take a while.
Finlay over for a sleepover. I made tortillas. Everyone watching Hotel Transylvania 2 while I read End of Watch. Will have an early night.
Up early to buy brioche burger buns from Garden City before they sell out. Then back to get the kids breakfast and take them to karate. Dzung took Eliza to buy a viola while Jack had his lesson. Home via garbo again, this time to pick up lunch for the kids and to get premium hamburger meat. Kids got dressed and we went in to Supanova. Finlay had the time of his life!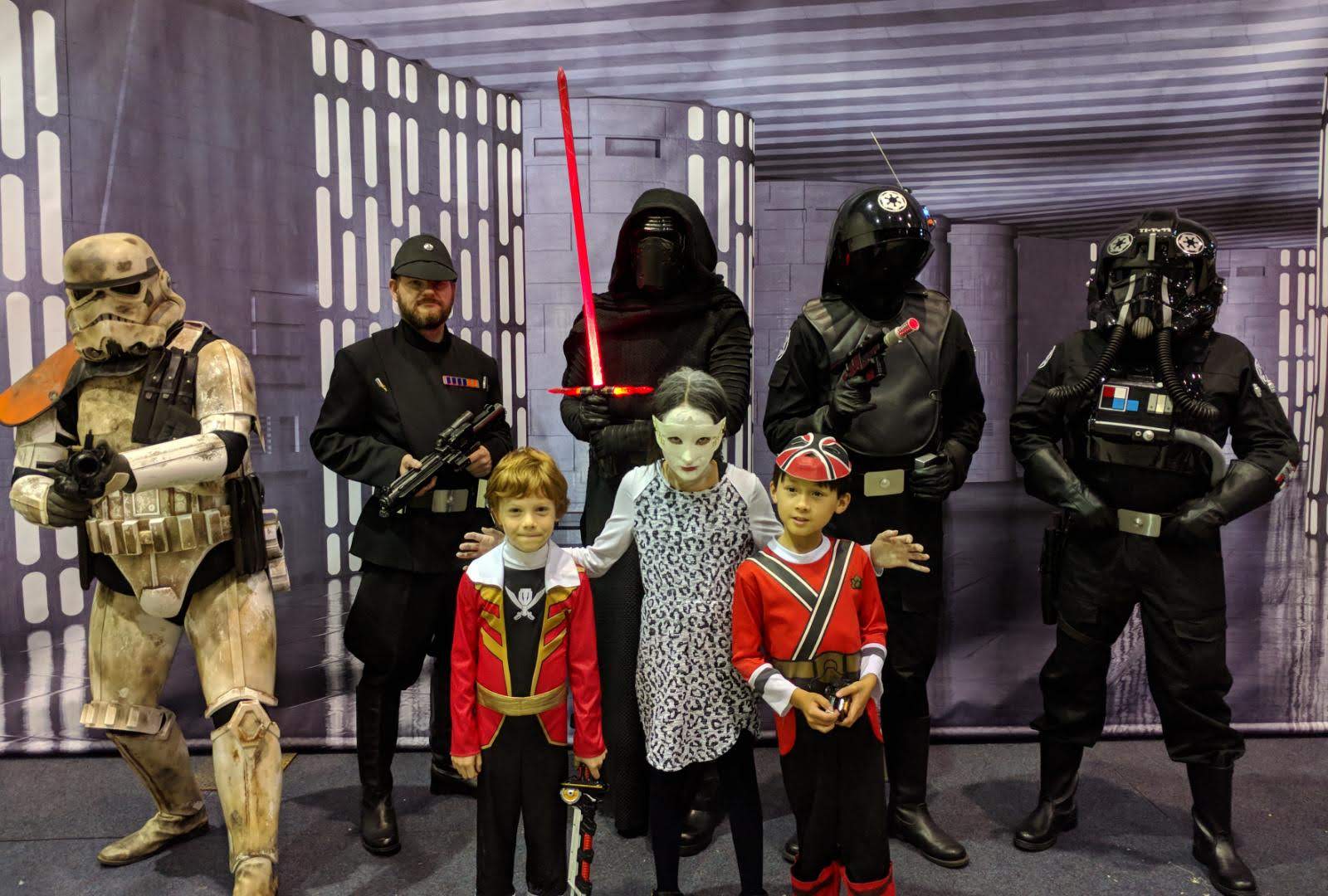 Dropped Fin at mum and dad's in the late afternoon. Stayed for a cuppa and a some rocky road. Then in to Hayashi for a wonderful dinner (superior beef, vegetable tempura, sous vide salmon, clam miso soup, rice, beer, lotus chips). Back home to make lamb and barley soup for tomorrow, using leftovers from last week's roast. Finished reading Queen of Sorcery to Eliza, and miffed to find that the series has been pulled from the Kindle Store. Wrote an email to PRH UK to ask for an explanation.
Did a little bit of HackTile work; added an overlay renderer and used it to add a transparent background to debug displays. Need to soldier on and get this UI built out over the next week!
Busy day. Finished making the lamb and barley soup that I started last night, and went to the shops to grab salad, cheese and frozen chips. Then prepared soup, hamburgers, chips and salad for Dzung's side of the family. Beautiful sunny day, so we sat outside to eat. Ma had two lamb sliders, and Ba ate several bowls of soup, and asked for some more to take home for dinner. Success!
Lilian, Lachlan and Joshua played their violins for us afterwards. Then packed up and went to pick up Mum and Dad to take them to the Civic Centre in Cottesloe where we watches Eliza and Jack's piano concert. They played with confidence. Very proud of our kids. Finished the day at Barchetta, watching the sun set over the ocean. Ordered pizza and a share plate, and wine and beer.
Did a little bit of work on HackTile but nothing much. Need to find time during the week, as I'm pretty tired now and will make it an early one.